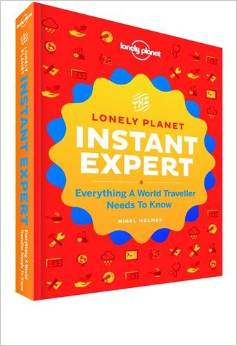 INSTANT EXPERT (A visual guide to the skills you've always wanted)
By Nigel Holmes
Publisher: Lonely Planet 2015
OK, so the title is misleading. Reading this book will not make you an expert in anything, nor is it crammed full of skills you've always longed for. But then the title of GONE WITH THE WIND didn't seem to have anything to do with Rhett or Scarlet or the Civil War or anything else for that matter.
PAGES AND PAGES OF GREAT ILLUSTRATIONS AND USELESS INFORMATION is probably a better title for INSTANT EXPERT but that was probably rejected by the publishers as too long and not very marketable.
Well, they were wrong. After over 200 pages of said useless information and great illustrations, I wanted more. This little book, published by the world's largest travel guide book company, is entertaining, addictive, funny, downright clever, and has nothing at all to do with travelling anywhere. It will, however, make you a terrific party guest.
After reading this book, you can hold a valuable conversation about how to read those annoying little laundering tags sewn into the seams of your clothes. Careful translation of those mysterious symbols means you – and your dinner companion – will no longer end up with dresses the size of Barbie doll clothes or a load of pink underwear.
After reading this book, you will be able to make dependable weather predictions by looking at cows, impersonate a fitness trainer, explain the art of caber tossing, comment intelligently about climate change, tie a bow line, and meow in a dozen languages.
Imagine how you will charm your boss's insipid wife with your knowledge of oriental rugs, the handsome man sitting next to your host with how to out-brake a Formula One race car, or the stunning Asian girl with what you know about the essence and grace of a tea ceremony. You will be everyone's favorite dinner companion.
But let's not forget the great illustrations. They are bright and clever, clearly drawn and informative. Much like a very good children's book with a grown-up twist … which makes it a perfect bedtime experience for you and your children. They might like to learn about the possibility of extra-terrestrial life, shooting stars, the best methods for building sand castles, games for long car rides, origami, how to play a bagpipe, meow in several languages, or how to brew beer.
No, that would be you. You might want to brew beer. Or how to pair wines with your meal, make a crepe, or build successful sushi.
In either case, INSTANT EXPERT is a pleasure to own or bring as a gift to that dinner party where you will be scintillating.
No, on second thought, don't give away your secret.
INSTANT EXPERT is written by Nigel Holmes, who was born in England and made a career in graphic design on both sides of the pond, creating graphics and illustrations for, among others, Apple, Fortune, Nike, The Smithsonian Institution, Sony, United Healthcare, US Airways and Visa. He also continues to create illustrations and graphics for Harper's, The New York Observer and The New York Times.
He has his own Wikipedia entry which warns readers not to confuse this Nigel Holmes with Nigel Holmes the UK photographer of nudes — or Nigel Howard Holmes, a research scientist specializing in nano-particle coating technology research scientist.
INSTANT EXPERT Nigel Holmes lives in Connecticut with his lovely wife Erin and he always wears round eyeglasses with blue frames. He has twenty